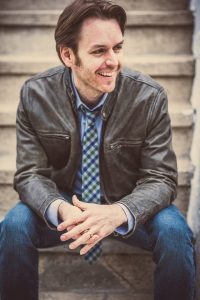 Scott is thrilled to be joining the team at Theatre Arts!
Born and raised in Tulsa, Oklahoma, Scott wasn't a kid actor…by trade. He did all his acting at home. After successfully not being murdered by his family for talking too much and generally being theatrical, Scott pursued higher education in a land far, far away…in Oklahoma City. He graduated from Oklahoma City University with a Bachelor of Music in hand and lots of gumption to take on New York City. He moved on September 12, 2001.  His acting career began took him to places and theatres across the USA. He's worked and toured through countless cities, some houses of note are Lyric Theatre, Stages St. Louis, Theatre by the Sea, Cape Playhouse, Philadelphia Theatre Company, Merry Go Round Playhouse, Barnstormers Theatre, Media Theatre, New Bedford Festival Theatre, Florida Repertory Theatre, 11th Hour Theatre, and Florida Studio Theatre.
After taking a few years away from NYC to obtain his Master of Music degree, he returned to the city and participated in readings, workshops, showcases, and productions Off-Broadway, and even had the opportunity to star in the NY Premiere of a Jerome Kern piece, CABARET GIRL.
He can be randomly seen in the background on certain episodes of CSI, Las Vegas, or the illustrious and short lived Nick(Lachey) and Jessica(Simpson) Variety Show. And for fans of the show Damages, yes, he is Luke Richards.
Scott continues to dabble in all facets of the business, having produced and directed LOVE, LOVE, LOVE-CELEBRATING THE BEATLES at the Laurie Beechman theatre, directed and choreographed FOREVER PLAID at Theatre by the Sea and [title of show] at The Secret Theatre in NYC.
Scott has since moved BACK to Tulsa, Oklahoma with his wife Lindsie, their Frenchie, Mavis, and their baby boy, Jed William! He has taught on the faculties of University of the Arts in Philadelphia as well as Rider University, in New Jersey,  serving as a Senior Lecturer and an Adjunct Assistant Professor of Musical Theatre. He is currently on the Musical Theatre Faculty at the University of Central Oklahoma, and is finishing work on another graduate degree, this time a Master of Fine Arts in Directing from the University of Idaho.