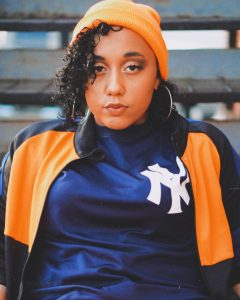 Born and raised in Tulsa, Oklahoma, Angelle Smith began dancing at the age of 2 at Miss Shelly's School of Dance. After gaining experience in ballet, modern, tap, jazz, and hip hop she realized not only how much she loved to dance but how much she wanted to share that love with others.
When she was 13, her training progressed when she decided to join the Booker T Washington Varsity Pom Squad her freshman year of high school, eventually becoming captain her senior year. Her coach at the time took her under her wing and furthered her dance training outside of normal practices for the squad, helping her realize her true passion for hip hop. Through this connection, Angelle joined a local hip-hop crew called "Organized Khaos." This afforded her the privilege to travel and compete in competitions, take classes, attend conventions, gain knowledge in concept video shooting, and connected her with dancers and master teachers around the world.
After graduating high school she furthered her education and training by attending Oral Roberts University majoring in Dance Performance and graduating Magna Cum Laude in May of 2021. During her time there she was selected in each of her eight semesters to perform in the Fall and Spring concerts in styles such as modern, ballet, jazz, Latin ballroom, hip hop, and more. She was also chosen to represent the ORU Dance program in attending the American College Dance Association conferences in 2019 and 2020. Angelle teaches and choreographs at several studios in the surrounding areas of Tulsa, and lives by the motto of using dance as a means to encourage individuality and self-confidence in each and every one of her students.